India is worst hit by COVID-19 second wave, from 21st April 2021, the country is reporting 3 lakh confirmed cases every day. On 6 May 2020, more than 4 lakh cases were reported. The condition is getting worst and worst every single day and due to limited healthcare facilities, most of the people are not getting proper medical treatment. Now, in that case, everyone should be aware that he actually requires some medical help or not. If someone having mild symptoms occupies a bed or uses an oxygen cylinder, then a severe patient might not get adequate medical facilities. So, it is extremely important to analyze whether you actually need to run to the hospital or not.
How Much Blood Oxygen Level (SpO2) is Healthy?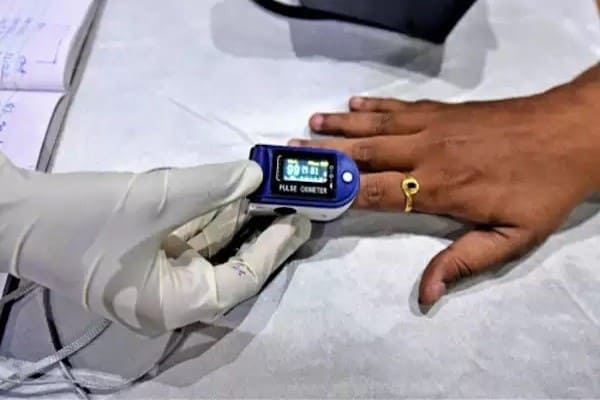 As per current medical standards, a SpO2 level between 94 and 100 is considered to be normal. Blood Oxygen Level below 94 is considered as a sign of worry and if it drops below 90, then it is a serious matter of concern. Then, the patient is advised to seek medical help as early as possible. When oxygen level falls continuously in the human body, this condition is known as hypoxemia. Hypoxemia is caused by low SpO2 level and can cause serious damage to the lungs, chest cavity or any other organ involved in respiration. This can even cause death if the treatment not given properly and on time. One medically proven solution of increasing or maintaining blood oxygen level at the comfort of your home is Proning.
What Is Proning?
This is a position of making a patient lie on a flat surface with face down i.e, on their abdomen or stomach. Proning is clinically proven to improve breathing efficiency and oxygenation in patients with low oxygen. The science behind this is that lying on the stomach helps keep the alveolar units open that, in turn, helps in achieving better breathing comfort. This measure is strongly recommended by doctors and health officials, and it should be adopted when somebody faces difficulty in breathing or the blood oxygen falls under 94. An average human body can prone up to 10 hours a day, in multiple cycles.
Things That Should Be Taken Care With Proning
If you had a meal, avoid proning for at least an hour.
If proning leads to discomfort, stop it immediately.
Keep a track of any sores or injuries that may happen during the process.
Practice proning only after consulting with your doctor.
If somebody is waiting for a hospital bed, this is the best thing somebody can do to keep SpO2 in control.
Also, it is extremely important to keep a track of your SpO2 level if you are infected from COVID-19. You should buy a standard oximeter from a medical shop or use smart bands or watches for real-time tracking. You can practice proning only and only if you monitor your SpO2 level at regular intervals. And most importantly, STAY HOME STAY SAFE.