VIVO IPL Election Se Selection – Vivo IPL is back with Election Se Selection Offer. Vivo is again Official Partner of IPL 2021 & The Player Selection Process is about to start so IPL Teams want to know your opinion. Now You have a chance to vote for your Favorite Player & if your Player is selected then You can Win a Free Cricket Celebration Pack Just Similar of Bharatpe Free Runs Offer  Last time Hotstar Offered IPL Tickets for Lucky winners. So Vote for Your Favorite Player Now. You Can Also Watch IPL For Free on Hotstar During Live Stream
For More Free Recharge Tricks & PayTM Cash Offers Keep Following Bigtricks Telegram Channel & our Posts.
Election se Selection is your chance to vote for the 'Cricket Player' you want in your Vivo IPL team, and win cool prizes in the process!
What Prize You can Win With Vivo Election Se Selection –
How To Vote On IPL Election Se Selection & Win Prizes –
1. First of all Visit IPL Election Se Selection Offer Page
2. Now You Will see Play Now Button Click On It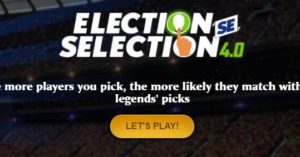 3. Now Select Your Favorite Team From 8 Teams.

4. Now You Will See some Players & You have to select Which team will choose which player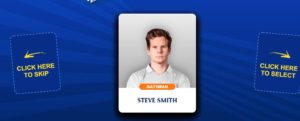 5. Now Verify that you are not a robot & Click on Signup or Login with Google button

6. Once You have Chosen click on Register Button and Login With Facebook or Google to Claim your Prizes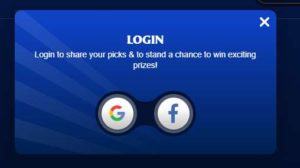 6. Once You Submit the details. Your Vote Submitted.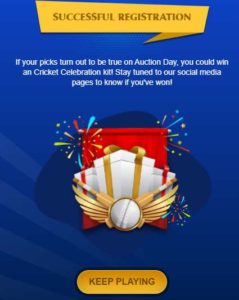 7. If Your Player gets Selected You are eligible to Win  Cricket Kit Signed
Suggestion –
Steve Smith: Chennai Super Kings
Comment Below More Suggetions.
Terms & Conditions –
All the Participants must be citizens of India present and residing in India during the Contest Period, must be of sound mind and must be at least 18 years of age as on the date of participating in the Contest. In case the Participant is below the age of 18 years, the parent and / or legal guardian of the Participant must consent to his/her participation in the Contest and must agree with and undertake to abide by all the Terms and Conditions contained herein and sign any such documents as required by STAR.
Each Participant is required to visit the Platform and answer the Contest Question during the Contest Period.
The Participants should submit their entry containing their answers to the Contest Question on the Platform during the Contest Period only ("Entry").
Any Entry which does not satisfy the requirements of 3 (a) – (c) above shall not be considered a valid Entry and shall be deemed null and void without requirement of any intimation by STAR.

On the Platform, a select list of 15 IPL players ("Featured Players") shall be made available, who will be participating in the IPL Player Auction for being chosen by an IPL team for the upcoming edition of the Tournament; and
For each Featured Player who appears on the Platform as per 4(a) above, the Participants are required to determine and vote for the IPL team which they believe will select /pick the relevant Featured Player pursuant to the IPL Player Auction. However, the Participants may choose the number of Featured Players for whom they wish to vote for, i.e., it is not mandatory for Participants to vote for all of the 15 Featured Players appearing on the Platform;
While making the picks for a particular IPL team, the participant can either: (i) slide left on a player image to skip a player; or (ii) slide right on the player image to add a player to the specific team.
Once the participant has selected a player for a particular team, such a player cannot be picked for another team as well.
It is clarified that while it is not mandatory for Participants to vote for all of the 15 Featured Players made available on the Platform, more the number of correct /accurate votes by a Participant the higher the chances of such Participant emerging as a Winner. It is further clarified that in the event that any one or more of the Featured Player(s) is /are not selected by any IPL team pursuant to the IPL Player Auction, then all votes cast by Participants in respect of such Featured Player(s) shall be treated as null and void and shall not be considered /counted for the purposes of this Contest; and